EXPLORE MORE ON AN YOUMO E-BIKE
From the stunning sights of Wanaka to Glendhu Bay, Luggate, Lake Hawea and beyond, there's so much to see in our wonderful town. We've searched far and wide to find the perfect e-bike, so you can explore it all in comfort and style. Find out more about our Swiss-made YouMo e-bikes, the superb network of on-site and nearby trails and our wonderful LandEscape packages.
YouMo comfort and power
Lakeside trails, river tracks and paths that weave through valleys and trees, our Swiss-made YouMo e-bikes will take you effortlessly through the very best of Wanaka. YouMo derives from 'Your Mobility', with the unique ergonomic design allowing you to comfortably explore up to 100km, for a day of scenic wonderment and joy you'll never forget.
YouMo e-bikes are adult-sized bikes, best suited for those twelve years and older. They are built for explorers who seek a relaxed scenic cruise, with raised handlebars for a more comfortable upright position, padded seats and extra suspension for those bumpier spots.
These stylish e-cruisers are a very capable all-rounder and perfect for our scenic offering. You will be enjoying Wanaka's gentle and well-made riverside and lakeside trails, not the far more challenging true mountain bike trails, so you won't be needing the advantages or comfort disadvantages of a mountain bike.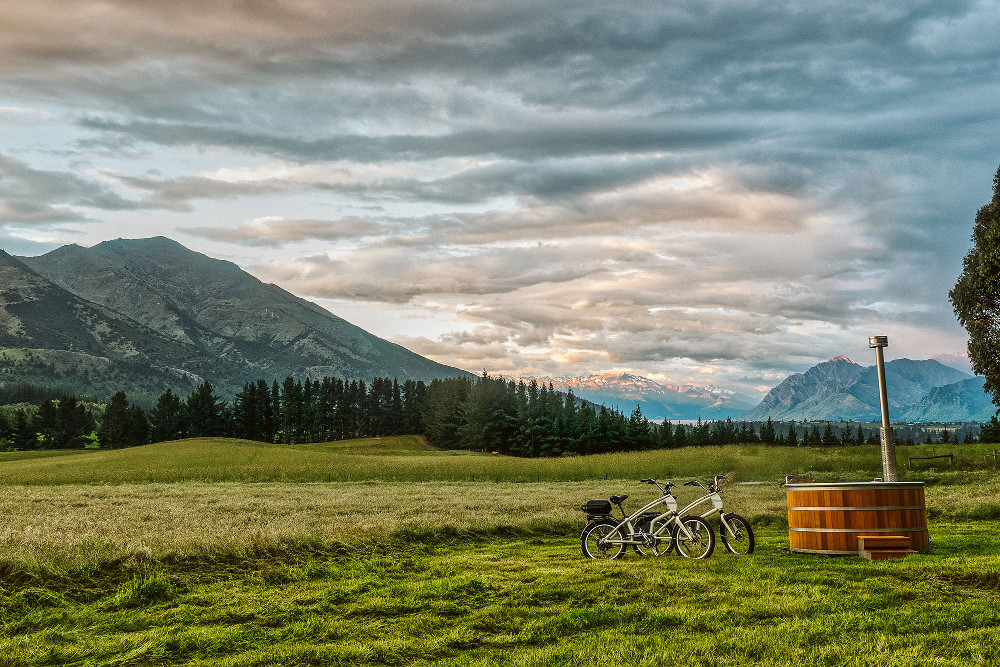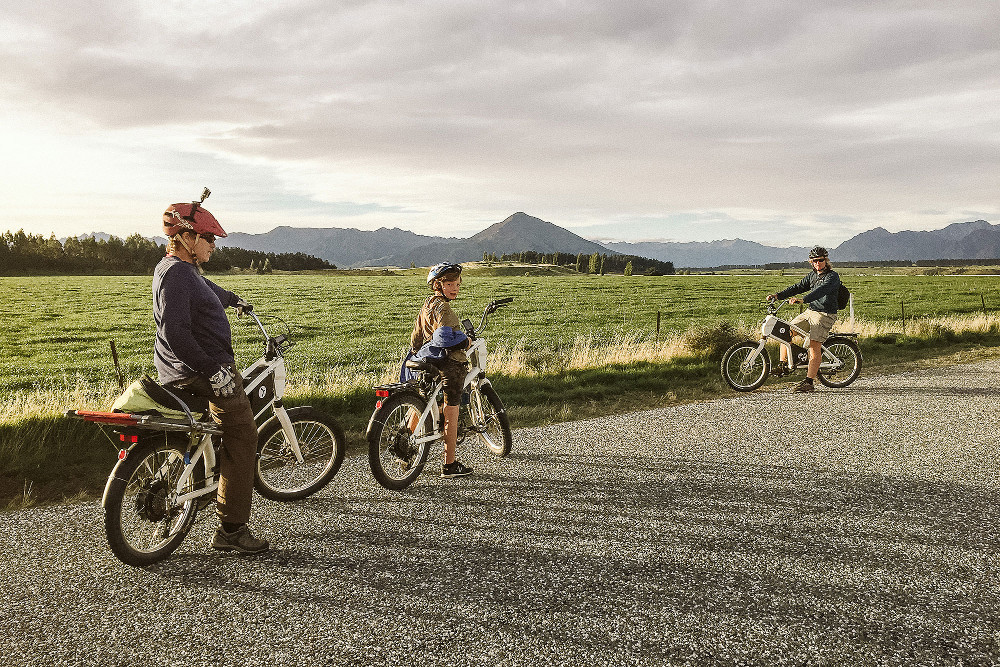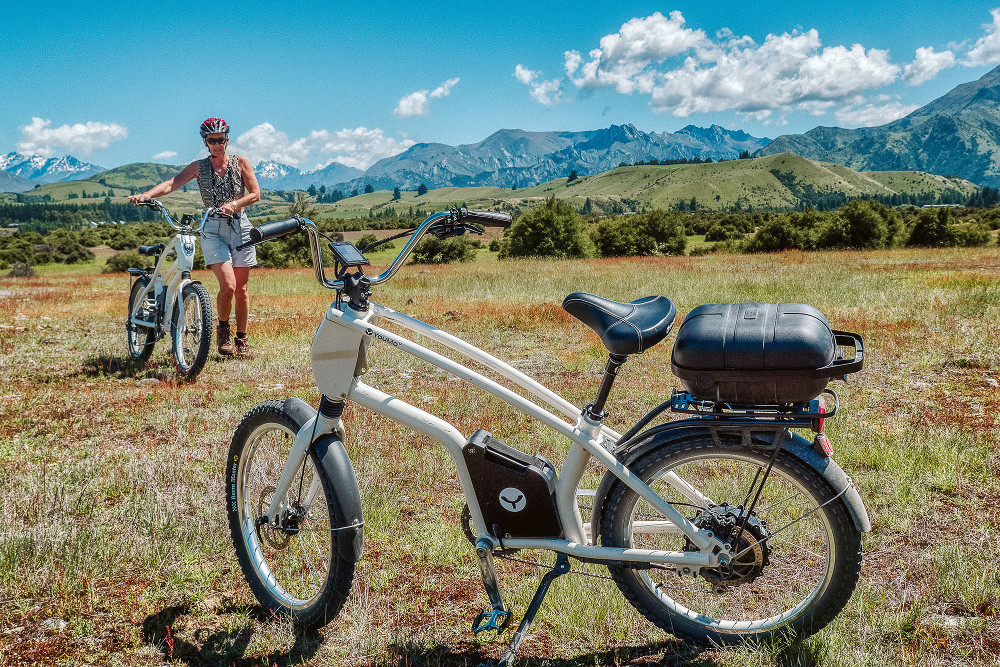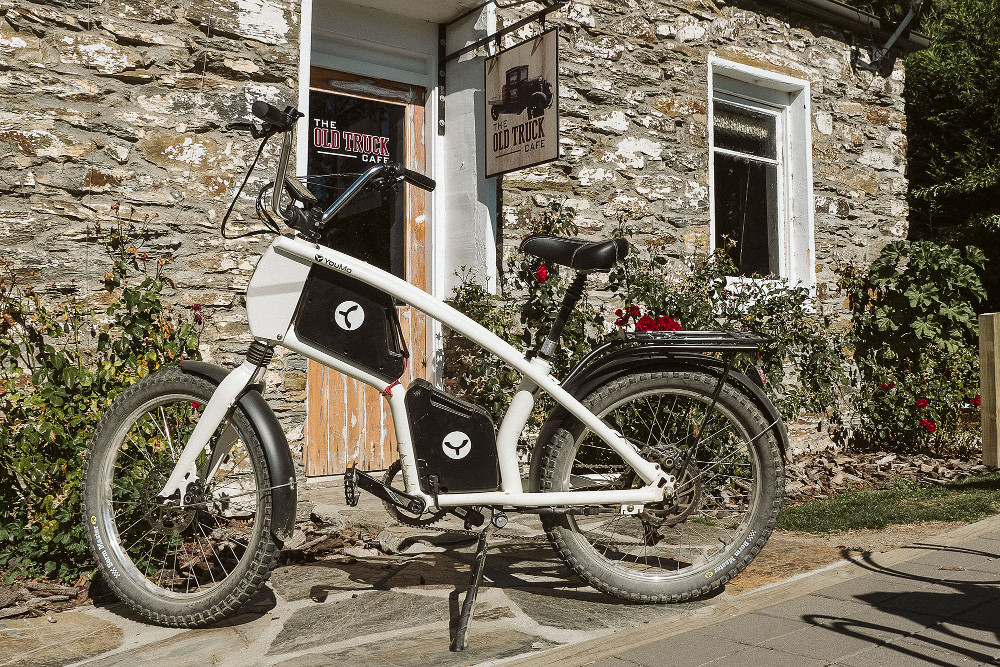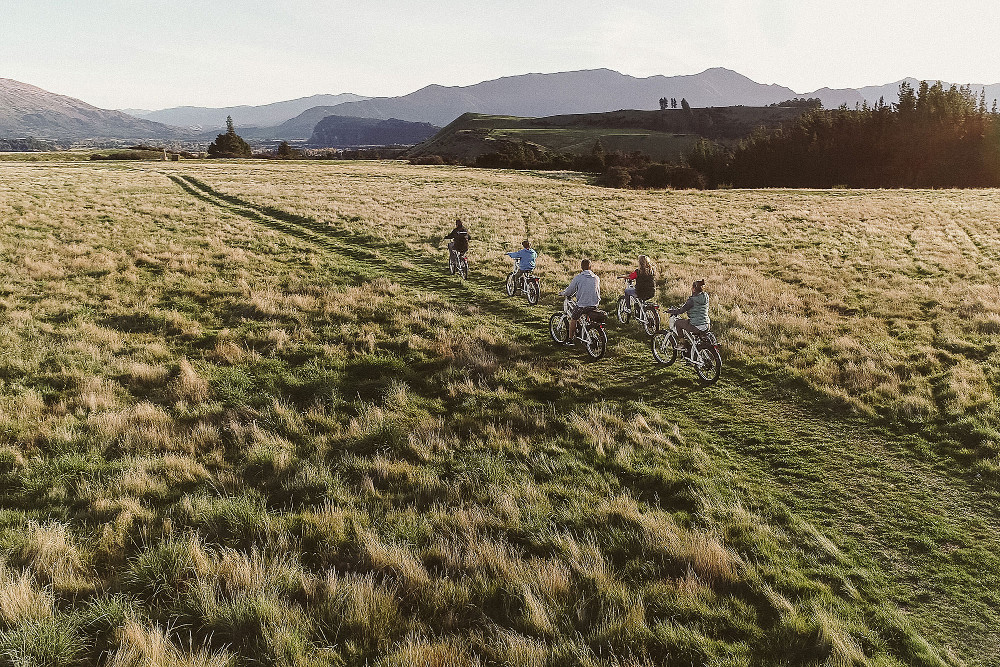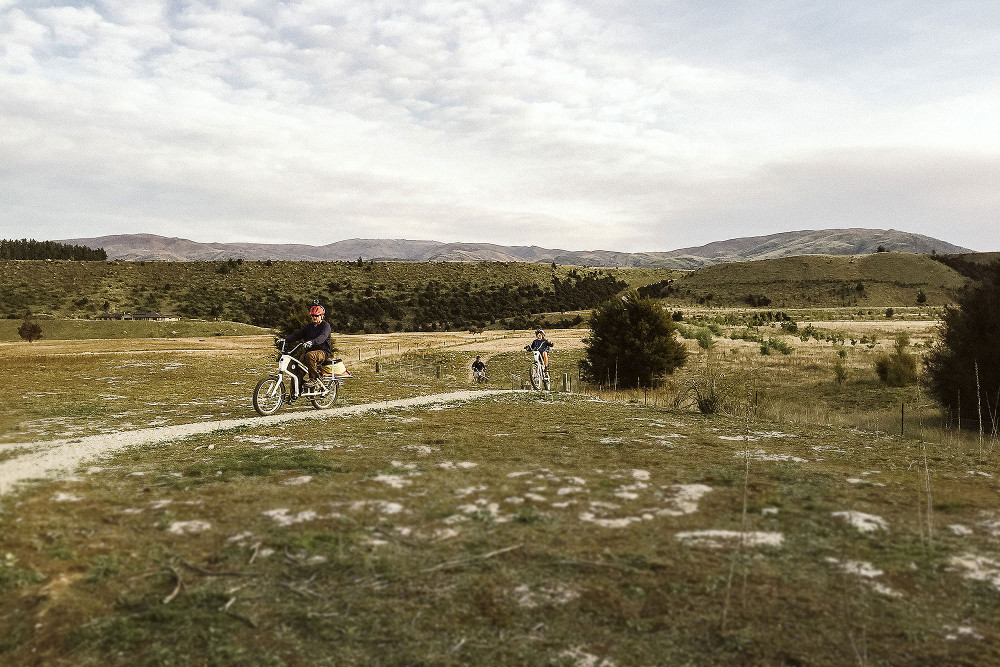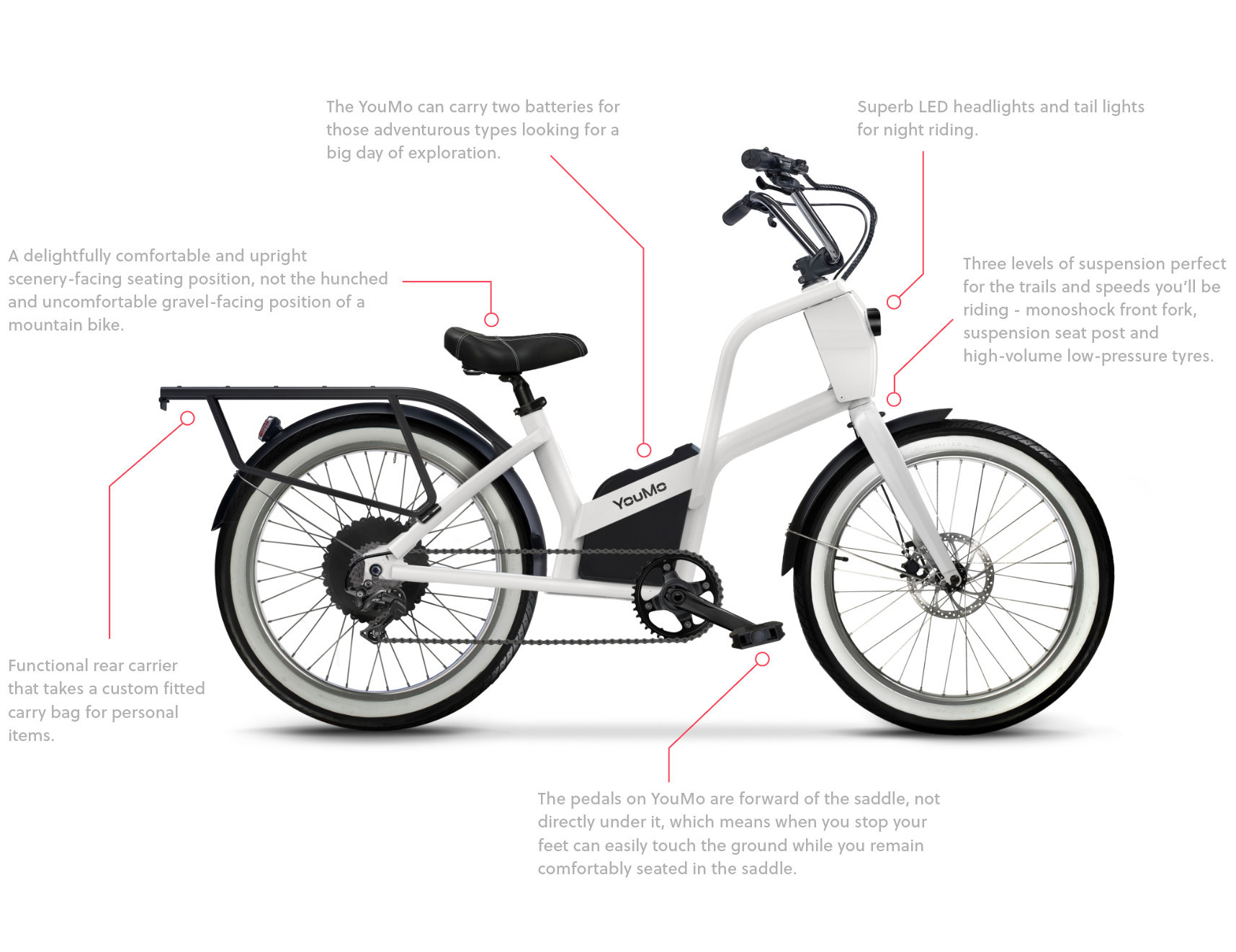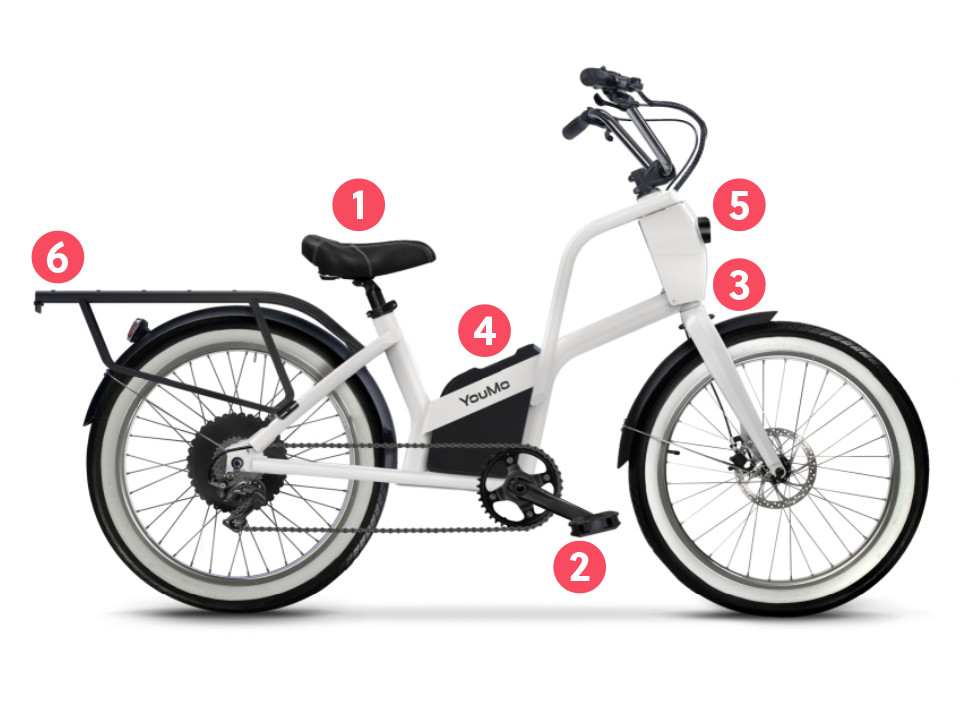 1
A delightfully comfortable and upright scenery-facing seating position, not the hunched and uncomfortable gravel-facing position of a mountain bike.
2
The pedals on YouMo are forward of the saddle, not directly under it, which means when you stop your feet can easily touch the ground while you remain comfortably seated in the saddle.
3
Three levels of suspension perfect for the trails and speeds you'll be riding – monoshock front fork, suspension seat post and high-volume low-pressure tyres.
4
The YouMo can carry two batteries for those adventurous types looking for a big day of exploration.
5
Superb LED headlights and tail lights for night riding.
6
Functional rear carrier that takes a custom fitted carry bag for personal items.
The Trails
LandEscape is situated just 700m from the Hawea River Trail entrance, where our region's superb cycle system opens up before you. Meander north along a lovely riverside track to majestic Lake Hawea, head south for the longer Newcastle Loop to Luggate, or simply cruise the glorious 25km into Wanaka. Once there, you can bike around the lakefront and out past the famous Wanaka Tree to Waterfall Creek, then explore the wonderful town itself.
The total Wanaka transport solution
To save you the hassle of transportation, we offer pick-up and drop-off in the local area. We'll collect you from your accommodation and take you to our stunning farm in the rolling hills of Hawea, just 12km from Wanaka. Here you'll get to know your e-bike on our own purpose-built grade one, two and three cycle trails (national grading system), then find out all about the outstanding network of nearby tracks that begins just metres from our gate.
During your ride, we offer on-trail puncture and breakdown repair. If required, we'll collect you from wherever you've cruised to within our approved radius at the end of your splendid day, then drop you right on home.
The superb LED lights of a YouMo also provides the option for night riding. After a wonderful day out, you can return to your accommodation to freshen up and ride into town for your local dining experience, then keep the bicycle overnight for a morning drop off - all without the need of a vehicle.
E-Bikes On LandEscape Farm & Nearby Trails